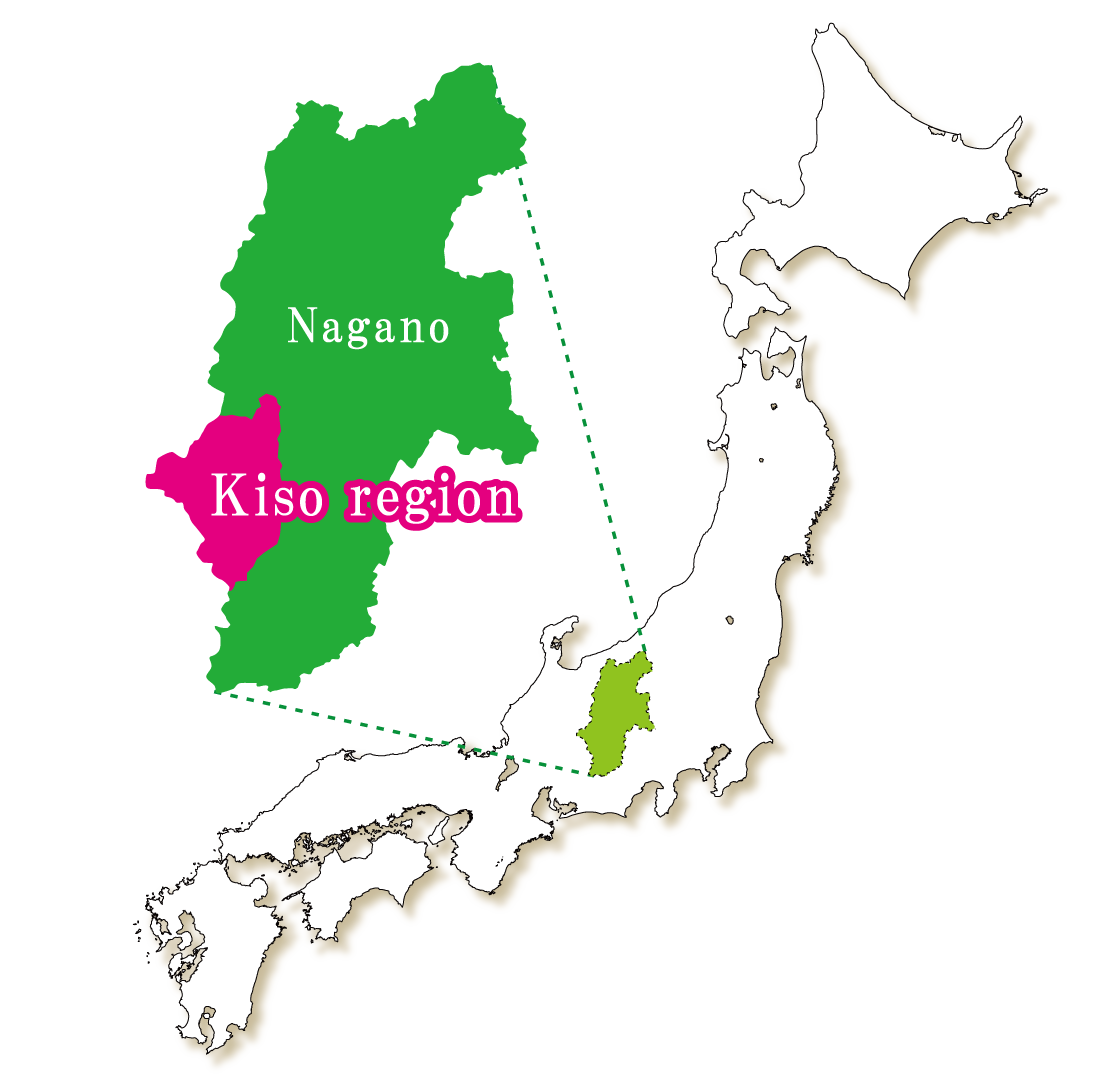 The plant-origin nano-sized lactic acid bacterium SNK is the powdered lactic acid bacteria (Lactobacillus plantarum) (sterilized) derived from the traditional food "sunki pickle" in the Kiso region in Nagano Prefecture which is processed the size to less than 1 micron using our proprietary technology to increase the utilization efficiency in the body. It particularly shows superior performance in adjusting the immunological balance of the body.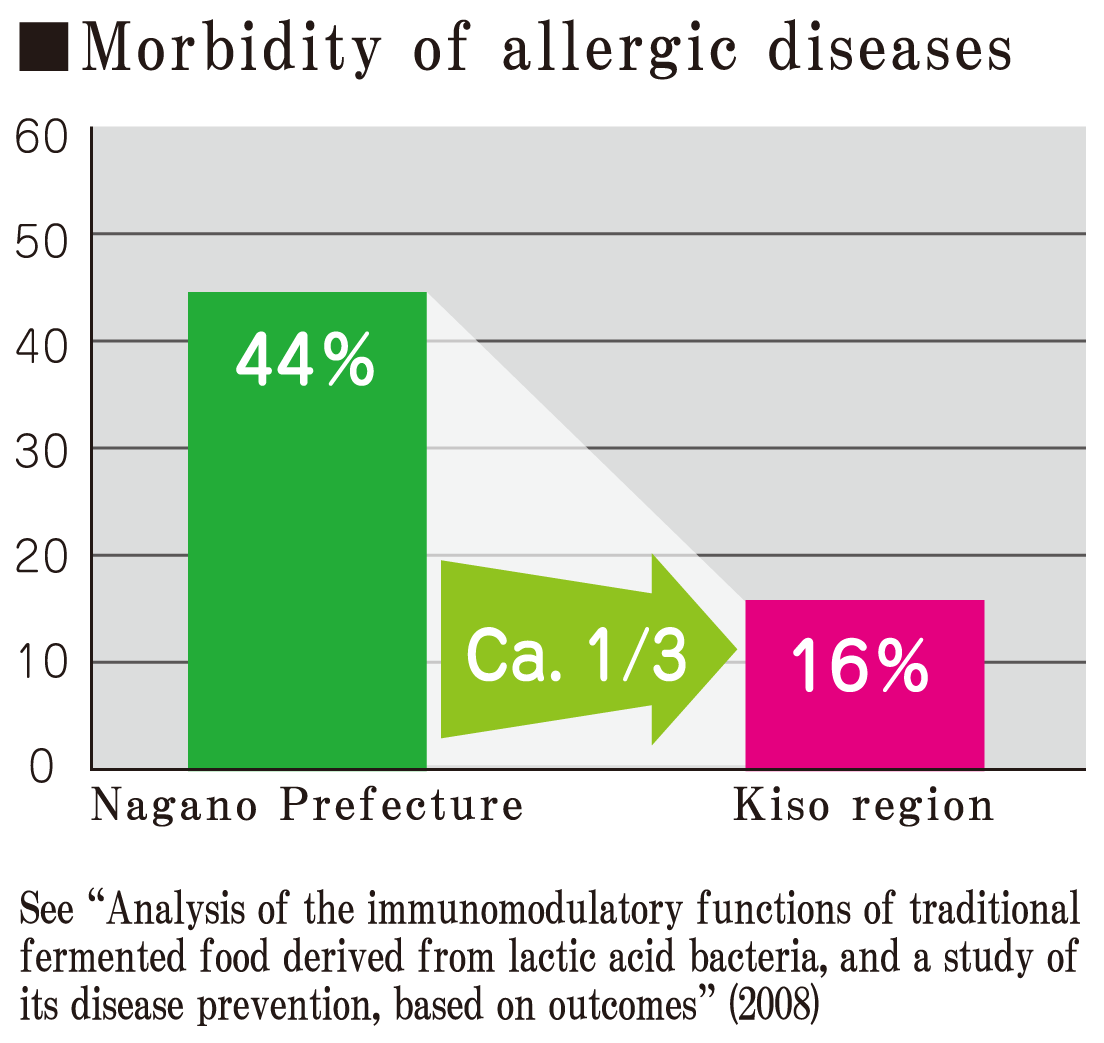 Nagano Prefecture is well known as a prefecture where people live long. In addition, the morbidity of allergic diseases in Nagano Prefecture is much lower than the national average; it is extremely low in the Kiso region in particular which is revealed to be approximately one third of that in Nagano Prefecture by epidemiological study.
Sunki-pickles, which have traditionally been made for more than 400 years in the Kiso-region of Nagano Prefecture, are simply produced by lactic acid fermentation of the leaves of red turnips without salt, which is a rare method of producing pickles anywhere in Japan.
In the Kiso region, epidemiological research also revealed that many people have a healthy immunological balance. The reason for this phenomenon is thought to be the lactic acid bacteria derived from Sunki-pickles.

Nano-sized lactic acid bacteria is sterilized lactic acid bacteria with a particle size of less than 1 micron, and disperse when dissolved in water.
From the results of many years of research, it has become clear that regardless of the life and death of lactic acid bacteria its "particle" works on various immune cells in the immune system of the intestine.
So that lactic acid bacteria is expected to work not only for intestinal regulation but also various things such as immunomodulation and aging prevention. In particular, small particle lactic acid bacteria is efficiently absorbed in the intestine, thereby activates immune cells, creates intracellular mediators, and enhances immunity.
<Unbalanced immunological system in modern people>
In the small intestine, approximately 60% of the immune cells in the entire body are gathered and the health of one's body is supported by maintaining a balance between Th1 and Th2 cells, which is the essential components of the immune system.
However, people living in the modern world often tend to disrupt this immunological balance favoring Th2 cells, because of a disturbance of the autonomic nervous system, lifestyle changes, and/or aging.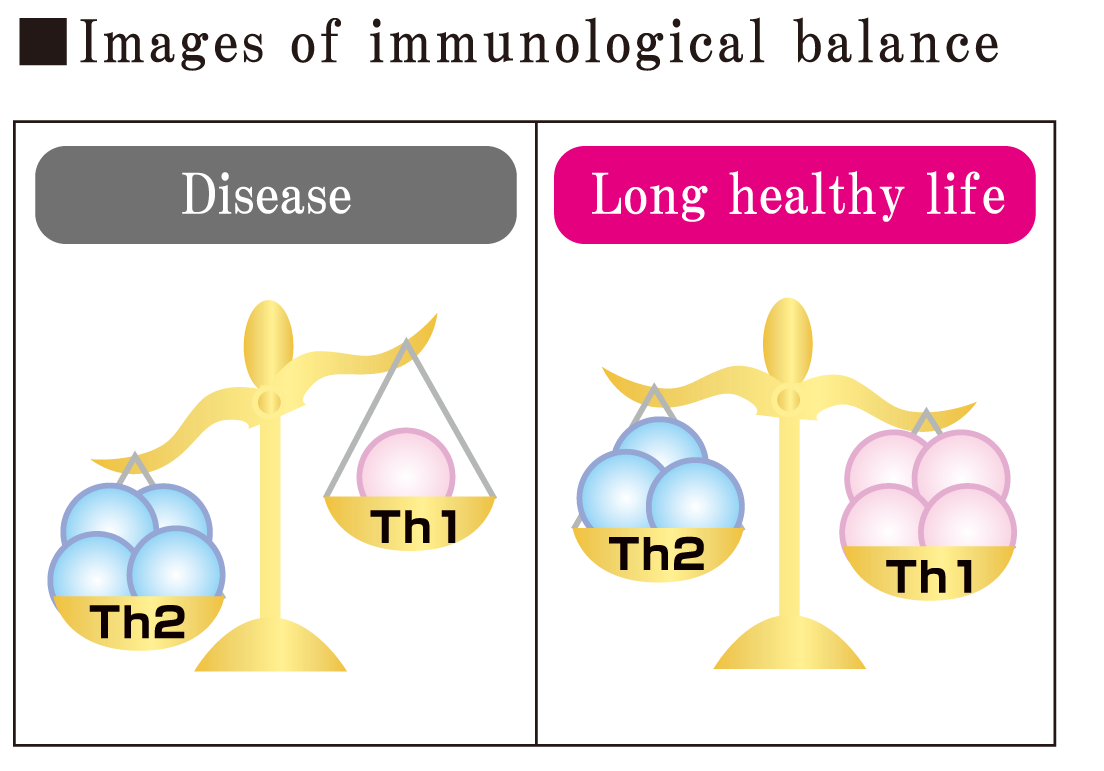 Nano-sized lactic acid bacteria made by separating adhesion of lactic acid bacteria and dispersing them, can easily pass through Peyer's patches in the small intestine. This production method can induce Th1 cells and adjust the immunological balance between Th1 and Th2 cells.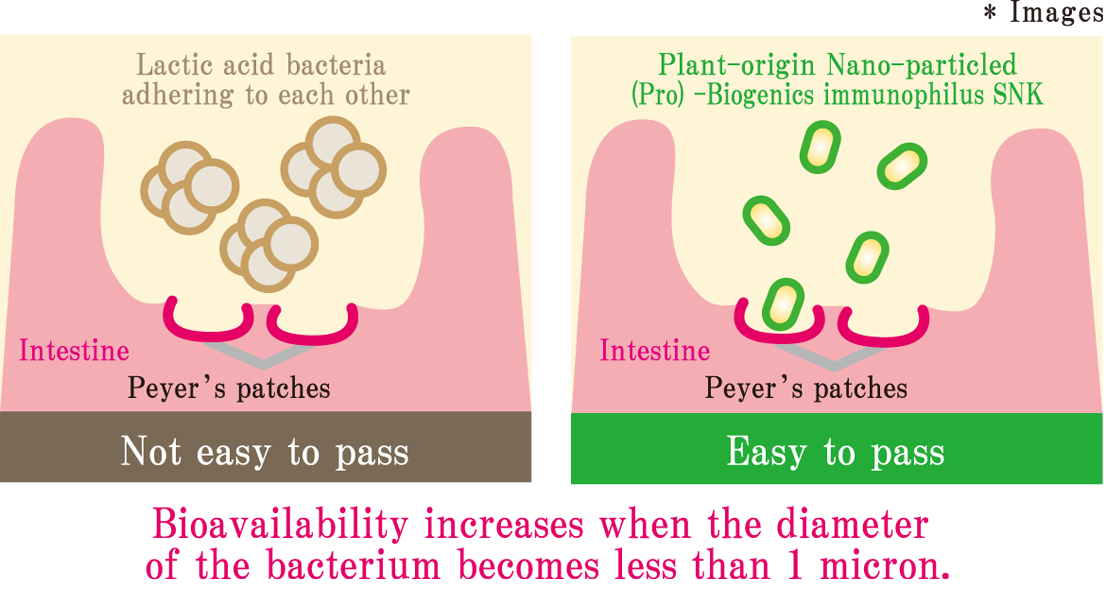 <Anti-stress effect (by human double-blind study)>
Int. J. Environ. Res. Public Health 2022, 19(15): 8936.
To assess the current mood state of study, 66 healthy males and females at the age of 20 years or older were participated and divided in to three groups: placebo, low-dose SNK (50 mg: 100 billion bacteria cells), and high-dose SNK (150 mg: 300 billion bacteria cells). As a result of the analysis both SNK low dose and SNK high dose showed significantly lower TMD score compared to placebo.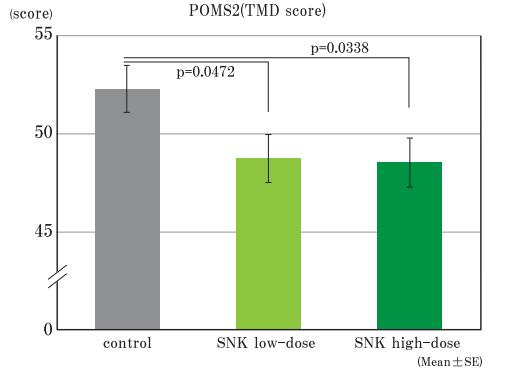 (Method)
Each group ingested for 4 weeks and analyzed by POMS2 psychological evaluation 2 was conducted after stress load (Uchida-Kraepelin test) before and after 4 week-intake. The amount of change the amount of change in the TMD score, which represents Total mood disturbance state was measured as the primary outcome.
*POMS2: Mood Profile Test to Assess the Mood State in a Time Frame by using seven scales: [Anger – Hostility] [Confusion – Bewilderment] [Depression – Dejection] – [Fatigue – Inertia] [Tension – Anxiety] (Vigor-Activity] [Friendliness] in addition to TMD
<Increase the action of brain-derived neurotrophic factor (BDNF)>
Bioscience, Biotechnology, and Biochemistry ,Published online 15 Sep 2019.
BDNF (brain-derived neurotrophic factor) is involved in cognition, learning and memory as well as differentiation and development of the nervous system. A reduction in BDNF in the brain hippocampus is associated with the occurrence of mood disorder and the BDNF level also decreases in a state of depression. Our verification test confirmed that the BDNF in the brain hippocampus of a stressed mouse increased with the administration of SNK, and the intake of SNK is expected to improve stress and depression.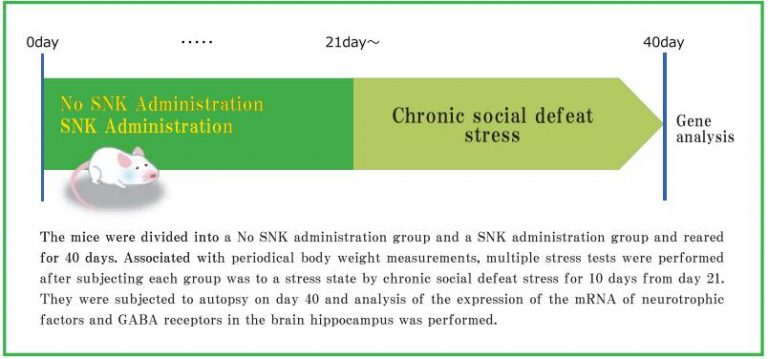 Although BDNF decreases in a state of stress, the level of mRNA expression of the neurotrophic factor BDNF in the brain hippocampus of the stressed mice to which SNK was administered was 2.5 times higher than that of mice to which no SNK was administered.
It was also observed that the level of expression of the mRNA of the GABAA receptor also tended to increase.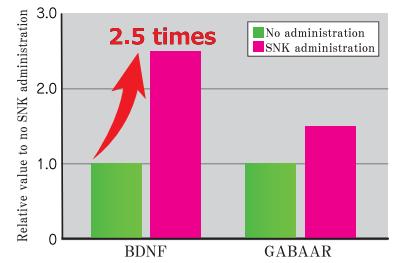 <Protective effect against influenza infection>
Biosci. Microbiota Food Health 2021, 40, 43–49.
Protective effect of the oral intake of plant-derived nano-sized lactic acid bacteria SNK against influenza infection was confirmed.

Evaluation 3 days after infection
Regarding the quantity of the virus in the respiratory tract and lung 3 days after infection, it was confirmed that the influenza virus was remarkably inhibited in the SNK group compared to the Control group.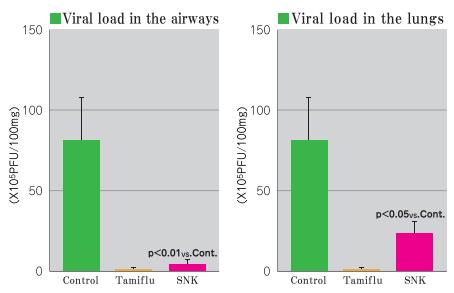 Evaluation 14 days after infection
Regarding the neutralizing antibody titer, which shows the strength of the immunity against the virus in the serum and respiratory tract 14 days after infection, the SNK group showed a higher value than the Control and Tamiflu groups.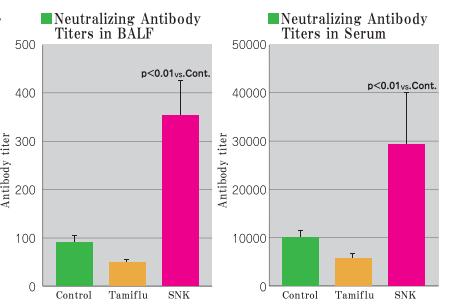 <Effects on NK cell activity>
It was confirmed that intake of plant-origin nano sized lactic acid bacterium SNK significantly increases the effects on NK cell activity.
*OK432: Immunotherapeutic agent to increase the immunity of the human body.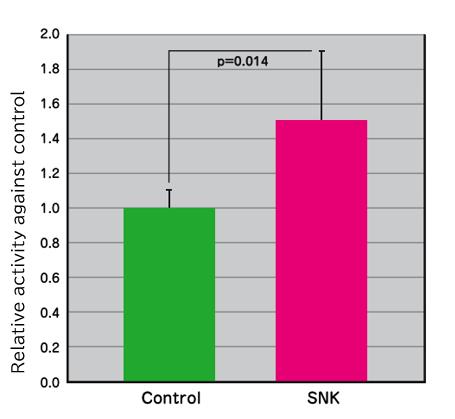 (Test method)
6 week-old female BALB/C mice(n=6) were forcedly orally administered with SNK (1 mg/kg BW) and physiological saline (control) for 7 days, after the administration for 7days NK activity of spleen was measured.
<Inhibition of Th17 cell production (Peyer's patch of mouse ileum)>
With the continuous use of the plant-origin nano-sized lactic acid bacterium SNK, the behavior of the immune system cells developing intestinal problems such as colitis was studied.
As a result, a significant dose-dependent inhibition of SNK in the production of Th17 cells, which is relates autoimmune diseases, was observed.
(Test Method)
30 mice were divided into 3 groups of 10 mice (C: only physiological saline solution, L: physiological saline solution + SNK 2mg/kg, H: physiological saline solution + SNK 10mg/kg) and were administered for 15 days. After oral administration for 10 days, dextran sodium sulfate, which induces colitis, was injected to cause inflammation. After dissecting 16 days after administration, analyses for each group were conducted to determine the ratios of Th17 cells and the gene expressions of transcription factor that are related to Th17 cells.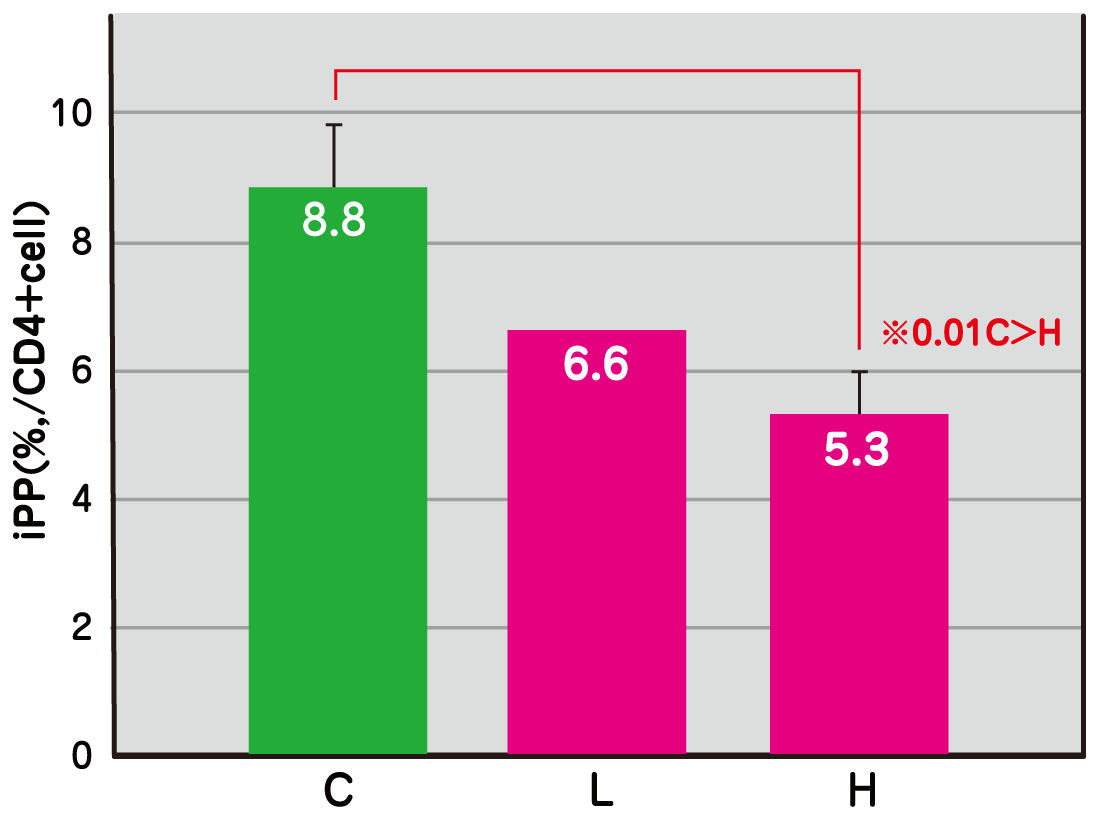 Characteristics of plant-origin Nano-sized lactic acid bacterium SNK®
•Originally found in traditional lactic acid bacteria-fermented food, "Sunki-pickles".
•A large number of SNK bacteria can be ingested at low dose. (More than 2 trillion lactic acid bacteria/g)
•Superior balance of cytokine production between IL-12 and INF-α.
•Because of the sterilized lactic acid bacteria, they show high stability towards gastric acid and heat and are suitable for a wide range of applications.
•Was patented as a Th1 inducer and its production method (November,2010)
■Product specification etc.
Product name: Plant-origin Nano-particled(Pro)-Biogenics immunophilus SNK
※Plant-origin Nano-sized lactic acid bacterium SNK
Strain name: Lactobacillus plantarum
Country of origin: Japan
Appearance: Pale yellowish-white powder
Solubility: Water-insoluble is disperse in Water
Genetically modified: No used
Storage temperature: Below 20°C
Shipping unit (packaging): 1kg
■Safety studies
•Acute toxicity test
•Residual pesticide test